UB40
are a British ragge band formed in 1978. The Members of the UB40 group are
Robin Campbell
,
Earl Falconer
,
Jimmy Brown
,
Brian Travers
,
Astro
,
Norman Hassan
,
Duncan Campell
,
Tony Mullings
,
Laurence Parry
and
Martin Meredith
, with the past members of the UB40 group are
Ali Campbell
,
Mickey Virture
,
Patrick Tenyue
,
Henry Tenyue
and They written a song called
Red Red Wine
and
Please Don't Make Me Cry
, and it was released in
Now That's What I Call Music 1
the first album in the series in the UK.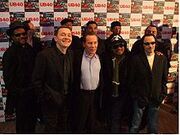 Ad blocker interference detected!
Wikia is a free-to-use site that makes money from advertising. We have a modified experience for viewers using ad blockers

Wikia is not accessible if you've made further modifications. Remove the custom ad blocker rule(s) and the page will load as expected.