Men Without Hats
is a Canadian New Wave group band. The members of the Men Without Hats group are
Ivan Doroschuk
,
Lou Dawson
,
James Love
and
Mark Olexson
, and the past members of the the Men Without Hats are
Stefan Doroschuk
,
Allan McCarthy
,
Colin Doroschuk
,
Tracy Howe
,
Daniel Wheeler
,
Mike Gabriel
,
Jean-Marc Pisapia
,
Joe Roberts
,
Lenny Pinkas
,
Bruce Murphy
,
Roman Martyn
,
Jeremie Arrobas
and
Heidi Garcia
. They written a song called
The Safety Dance
and was released the first UK album in the series,
Now That's What I Call Music 1
.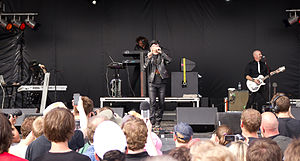 Ad blocker interference detected!
Wikia is a free-to-use site that makes money from advertising. We have a modified experience for viewers using ad blockers

Wikia is not accessible if you've made further modifications. Remove the custom ad blocker rule(s) and the page will load as expected.