Malcolm Robert Andrew McLaren
(born 22 January, 1946 - 8 April, 2010) was an English performer, impresario, self-publicist, and manager of the Sex Pistols and the New York Dolls. He written a song called "
Double Dutch
" and was released in the first UK album in the series, "
Now That's What I Call Music 1
".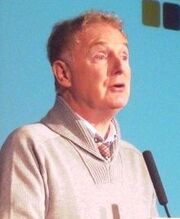 Ad blocker interference detected!
Wikia is a free-to-use site that makes money from advertising. We have a modified experience for viewers using ad blockers

Wikia is not accessible if you've made further modifications. Remove the custom ad blocker rule(s) and the page will load as expected.